All businesses understand the need for digital transformation in order to stay competitive and relevant in today's markets. But many are still unclear of what digital transformation really means. Is it as simple as moving from paper to cloud? What's the role of quality in digital transformation? Why is it important?
Industry experts Frank Defesche, Dr. Prasad Akella and Dr. Joseph A. DeFeo unpacked the concept of "digital transformation" at the first annual Veeva Quality Summit in Cincinnati last week. Here were some of the key takeaways from their presentation.
What is Digital Transformation?
Many people view a move from paper-based to digital as "digital transformation." While digitalization of existing services is a precursor to digital transformation, it is simply digital migration.
As Veeva's Frank Defesche explained, digital transformation is the planned and strategic journey that an organization takes using technology to gain a competitive advantage by increasing efficiency and productivity.
Take, for example, Adidas. The company wanted to sell custom shoes to its customers but its manufacturing plants couldn't support this plan. So, the company turned to 3D printing to serve the needs of its customer. Shifting from traditional manufacturing to implementing the same process via 3D printing was a digital migration.
However, the company soon realized that 3D printing could be used to create a mesh that would change the way athletic shoes are supported. By implementing digital technologies to gain a competitive advantage in the footwear industry, Adidas had uncovered a digital transformation that would impact their footwear strategy across the board.
Examples like Adidas make it easy to see why leading companies are investing in transformative technologies. According to a World Economic Forum survey of Fortune 500 companies, those who embraced digital transformation gained up to 8% or $100 million in additional operating income. This money can be invested into R&D, as well as marketing, to remain competitive and stay ahead of the curve.
However, digital transformation requires more than investment. The key to a successful digital transformation is a company culture that is risk tolerant, has the necessary skills needed to adapt to evolving technology, and believes in expanding the role of quality. All change comes with risk and companies that embrace risk will be successful. Change also requires companies to develop new skills to keep up with the changing technology. Lastly, quality can no longer just be plant floor police. From design to R&D testing, quality must be a part of all business processes in order to successfully implement digital transformation.
Data is Key
As management theory pioneer Peter Drucker said, "If you can't measure it, you can't improve it." Today's manufacturing leaders are increasingly empowered, and expected, to make data-based decisions. In a PwC study of 2,000 global manufacturers on digital transformation, 72% of manufacturers expect to use data to improve customer relationships. They also expect to see 3.6% reduction in operational costs and 4.1% increase in efficiency from adopting new digital technologies through 2020. All told, 83% say they will use data to make significant business decisions.
Data is the gift of digital transformation. As Dr. Prasad Akella from Drishti explained, 90% of all manufacturing in the world is manual. And for the past 100 years, people have tried to coax consistency out this human-driven process.
Take the real-life example of a consumer electronics manufacturer. Employees work in an assembly line while quality managers make rounds with a stopwatch and a clipboard once in a while to capture how long steps in the process take and make sure everything is running smoothly.
This sort of data collection creates two problems: an incomplete dataset and a biased dataset.
First off, all employees are different and work differently. The size of a plant, who is at the plant, the time of day, among other factors can lead to an incomplete picture and a biased data set. This flawed data can cause bad decisions, over-compensation, unease and distrust. Company management might decide to lay off workers, or send jobs overseas on the basis of incomplete data.
Digital transformation has realigned the way manufacturers do business. Dr. Akella shared how Drishti's technology uses AI (artificial intelligence), machine learning, and computer vision for complete data capture and analysis.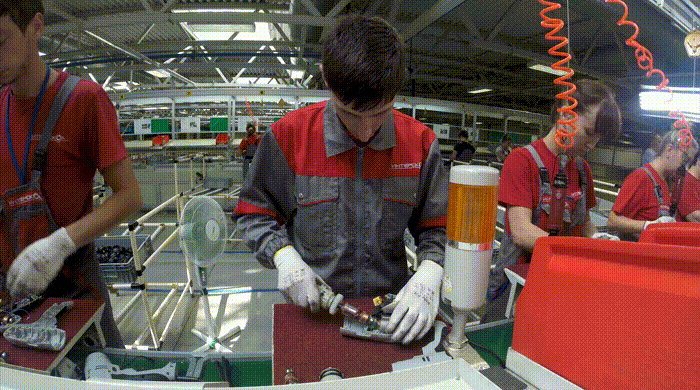 Using cameras at each station, manufacturers can get real-time data on every worker, measure every step against controlled work instructions, and use that data be proactive in resolving errors. These new capabilities empower and celebrate the production line workers, using technology to extend human potential.
Digital Transformation and Quality Management
In the final segment of the session, Dr. Joseph A. DeFeo from Juran Institute shared his insights into the Juran Trilogy, a continuous improvement principle that includes quality planning, quality control, and quality improvement. He stated that the goal of quality management is to fix flaws in quality planning to ultimately lower the cost of poor quality (CoPQ).
CoPQ comes from internal and external failures, which are caused by the seven wastes. New technologies, such as smart factories, are reducing CoPQ and driving higher profits. 76% of manufacturers either have a smart manufacturing initiative that's ongoing or are in the process of defining one. Smart factories are expected to increase productivity by 7x by 2022, and will add between $500B and $1T in value within 5 years.
While new technologies are having a positive impact on businesses, they are also changing the way quality is managed, necessitating new skill sets. Having worked with and studied thousands of quality professionals from across regulated industries, Dr. DeFeo stressed the importance of being an integral part of digital transformation, or risk being left behind.
As quality management becomes increasingly digital, many tasks will be carried out by operators and front-line staff, rather than QC staff. To stay relevant, quality professionals must learn new skills in data analytics and critical thinking as they will be expected to maintain digital systems, monitor trends, and determine process improvement initiatives.
--
Looking for industry cloud solutions to ensure the success of your digital transformation? Contact us today to learn about our quality and newly released brand and regulatory applications to meet your specific business needs.