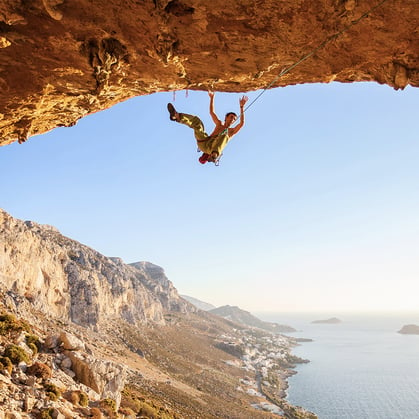 What do rock climbing and consumer product claims have in common? Well, both involve a high degree of risk and potentially severe consequences for errors; but perhaps most importantly, the risk surrounding both can be dramatically reduced by using the right approach and tools for the task. Legal, Regulatory, Marketing and others involved in managing product claims in consumer goods companies might be well served by examining how rock climbers mitigate risk.
Lawsuits or other challenges related to product claims in consumer goods seem to be in the news almost daily. These can be initiated by competitors, regulatory authorities, consumer groups, or the dreaded class-action lawyers. A recent survey by Hanover Research entitled "The Risks & Opportunities of Product Claims Management", revealed that almost 70% of companies with over $1B in revenue across consumer goods, cosmetics and chemical verticals have had claims challenged.
Several factors are contributing to the frequency of challenges: increasing awareness and concern on the part of consumers about ingredients and claims; regulators becoming more active (e.g. "free from" in the EU, and Proposition 65 in California); and increasingly intense competition for market share across categories due in part to reduced barriers to entry enabled by the digital economy and social media.
What's also interesting is that according to Linda Goldstein, an advertising attorney and partner at BakerHostetler, quoted in a recent Advertising Age article, companies who seek to stop what they perceive as false or misleading advertising by competitors are more frequently bypassing the traditional arbitration route through the NAD (National Advertising Division of the BBB), and going directly to litigation. While this is a more expensive and time-consuming path to resolving disputes, it may have more teeth than NAD arbitration, and courts can award damages while the NAD cannot. Goldstein suggests that the driver behind this trend is likely an increasingly competitive environment.
So, back to the rock climbing analogy. Climbers undertake very risky challenges every day, but for the most part, stay reasonably safe. Their approach boils down to three key factors: preparation, focus, and vigilance. Let's have a look at how these three points can be applied to claims management.
Preparation:
Rock climbers spend weeks or months planning a route, sometimes climbing certain pitches in advance as preparation for the big climb. They prepare for a potential fall, use safety gear, and clip into anchor points along the way to limit their exposure.
Those responsible for claims should also be prepared should a challenge arise. Have an audit trail and a record of approvals. Substantiation documentation should be directly linked to the claim, and easily accessible. Similarly, packaging and marketing assets using a claim should be recorded with the claim so if a change is needed, it can be made quickly.
Focus:
Rock climbers are hyper-focused on the task at hand. Every handhold and foot placement is considered carefully. They tune out extraneous noise and are solely focused on their immediate task.
Legal and regulatory claims managers also need to focus on the highest risk claims. They should spend time reviewing and approving these claims, and consider enabling some level of self-service or abbreviated review for lower risk claims. Too often every claim is treated with the same level of scrutiny and care, wasting high value, limited resources.
Vigilance:
Climbers are constantly assessing their situation, both internal and external. As factors change before and during a climb, adjustments need to be made. A climber's state of mind on a given day may result in an aborted attempt. Similarly, a wet or crumbling slab of rock may force a deviation from the planned route.
Vigilance is critical with claims as well. Risk ratings for claims can help Legal and Regulatory know where to focus their initial review efforts and also their continuing vigilance. Riskier claims and local markets should be watched carefully, and changes to the competitive or regulatory environment may have an impact on permissible usage.
Veeva Claims helps companies manage the end to end claims process. In addition to core Claims Management capabilities, Veeva provides solutions for the Localization of Global Claims, Challenge Response, and Oversight & Insights. Learn more about Veeva Claims.
---
About the Author
John Cooper, Director, Strategy, Veeva Claims
As director of strategy at Veeva, John is responsible for the overall strategic direction for the Veeva Claims application. This includes product roadmap prioritization, industry thought leadership, and strategies and tactics to drive awareness and interest within targeted verticals. John acts as the subject matter expert around claims and works closely with the sales team on new and existing accounts.
John has over 15 years of experience in senior marketing roles across a variety of industries, including consumer products, healthcare, and health insurance. As associate director of marketing at The Clorox Company, John worked extensively in regulated categories and led teams responsible for brand strategy and marketing, innovation, and channel marketing.
John holds an MBA from the Haas School of Business at the University of California, Berkeley, and a BA from Harvard University.