Last week I had the pleasure of attending the first annual Veeva Quality Summit. This 1-day complimentary educational event brought together IT and Quality professionals to understand and accelerate quality's digital transformation.
While the day was packed with valuable presentations and conversations, here are the six lessons that stood out.
Lesson 1: Digital transformation is more than digital migration
Many attendees came to Cincinnati wondering what is meant by digital transformation and how they might leverage new technologies at their companies.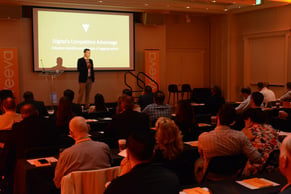 As Veeva's Frank Defesche eloquently explained, digital transformation is the strategic and planned journey an organization takes to gain a competitive advantage by harnessing technology to increase efficiency and lower costs. It is not the digitization of existing services (aka digital migration), although migration is often a precursor to digital transformation.
Once the group had this shared understanding of digital transformation, some wondered how it could be accomplished at their companies. Bringing industry experience to bear, panelists Pat Whyte from New Chapter and Mike Lombardo from ProQuest outlined how they prepared for and are successfully executing quality's digital transformation at their companies.
Here were Mike and Pat's top three essential items to secure stakeholder buy-in and ensure a successful implementation:
Have a plan: Develop process flows and consult with business process owners to ensure clear requirements before beginning the selection process.
Secure management buy-in: Consider all aspects of cost when building your business case.
Phased rollout:

In multi-site global organizations, start with 3-4 varied sites, based on regions, products, processes etc., iron out details and issues before deploying globally.
Lesson 2: Digital transformation is already here
Drishti's CEO and Founder, Dr. Prasad Akella, showed us the future of manufacturing. Rather than replacing humans with robots, Drishti aims to extend human potential.
Each human action can be turned into data through AI (artificial intelligence), machine learning, and computer vision for complete data capture and analysis.
Drishti's technology showed attendees the future of quality where a root cause analysis is just a video review away, data from every human action is used to increase quality and productivity, and AI helps operators perform with greater precision reducing deviations.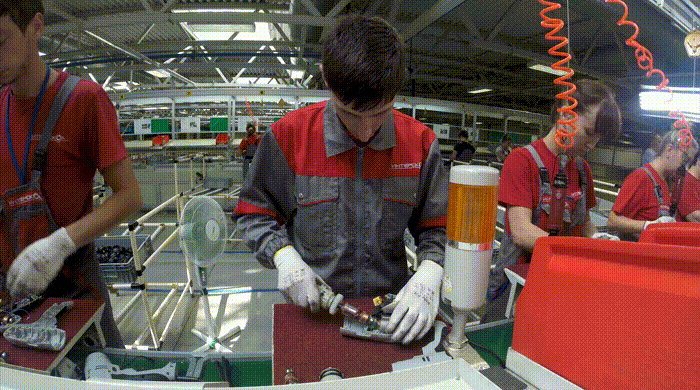 Lesson 3: Quality roles and skills are evolving rapidly
Dr. Joseph A. Defeo, Chairman of the Juran Institute gave us a new perspective on the Juran Trilogy, a continuous improvement principle that includes quality planning, quality control, and quality improvement.
Having worked with and studied thousands of quality professionals from across regulated industries, Dr. DeFeo stressed that it's important they be part of this digital transformation, or risk being left behind.
As quality management becomes increasingly digital, more and more of current QC actions will be carried out by operators and front-line staff, transforming the role of quality. To stay relevant, quality professional must gain skills in data analytics and critical thinking as they will be expected to maintain digital systems, monitor trends, and determine process improvement initiatives.
Lesson 4: Data Integrity is more critical than ever
John McShane, Managing Partner from Validant, brought home the reality that without accurate data, you have nothing.
Documentation and records have always been important, but in this digital age, data integrity is a new ball game. Companies must ensure every instrument, system, and database maintains every piece of required data, accurately, every time. To do this effectively, participants were encouraged to ensure their companies have a strong data integrity program in place through executive sponsorship and proper planning and execution.
Lesson 5: Quality spans the product journey, including suppliers
In an audience favorite presentation that balanced insight with entertainment, Shane Allen, Supplier Development Engineer from Uponor, shared the importance of modern supplier management in managing quality.
Shane outlined how digitization impacts the perception of a qualified supplier. For example, a supplier who has undergone digital transformation will be perceived as a better partner to work with because modern technology enables quick and easy verification of supplier data. Suppliers must be part of quality's digital transformation to stay competitive.
Uponor is ensuring they're innovating and remaining competitive in part through their partnership with Veeva, with whom they're consolidating disparate and aging quality and supplier management systems with QualityOne.
Lesson 6: Quality is central to maintaining competitiveness and brand integrity
Trevor Carroll, Quality Assurance Manager from New Chapter shared how quality contributes to delivering on the brand promise. Bottom line: it's essential that quality is infused in every step of the product journey because consumers are concerned with the product you deliver, not your vision statement.
New Chapter is maintaining that promise through its investment in modern technology. Using Veeva's QualityOne application, New Chapter has enabled streamlined processes, efficiency, and visibility, thereby ensuring data integrity and increased compliance.
Looking Around the Corner: What's Next at Veeva and 2019 Summit
At Veeva, customer success is our #1 goal and we achieve that largely in part through product excellence. In the final session, Veeva's Vice President of Strategy Ed Van Siclen, and Vice President of Products Derek Wagland showed a sneak peek at what's around the corner for product innovation from Veeva.
Quality is a common thread weaving from the innovation of a product, through production, and all the way to in-market. Veeva's upcoming brand and regulatory applications will address customers' needs throughout the product journey. We are excited to develop and innovate solutions across this journey in partnership with our customers, ensuring their success with industry cloud solutions.
Thank you to all of the wonderful presenters and to the attendees who joined us this year. We at Veeva are excited for the upcoming year and look forward to learning and networking with you all at the 2019 Veeva Quality Summit.