Although training is essential to workforce competency and compliance in highly-regulated industries, managing training systems and processes is manual and error-prone. As today's businesses grapple with globalization and increasing supply-chain and product complexities, there is a much greater need for both a modern, unified training management solution and competent and connected knowledge workers.
Did you know that only 36% of companies have an automated training management system in place? Or that less than a third have developed robust, standardized training management processes?
Even in 2019, most companies are still relying on fragmented, siloed, incomplete, and poorly automated training management systems and processes.
These findings are just a sample of what is in a new analyst report entitled "Transforming Training Management - Impact of Digital Tech on Scaling, Developing, and Retaining Competencies," which surveyed 250 executives, business leaders, and professionals across a broad range of company sizes, geographies, and industries. Click here to download your complimentary copy.
In this post, we examine three of the most compelling takeaways from this newly released report.
1. Training management is no longer just about compliance
With rapid advances in connectivity, mobility, scalability and data science, companies are realizing that a unified and modern approach to training and quality management can positively impact product quality, processes, and people. Technology is helping improve workplace efficiency, help employees perform better on the job, and increase the likelihood of meeting aggressive business objectives. This trickles down to the ability to build more innovative products, digitize operations, and streamline the manufacturing process across the supply chain.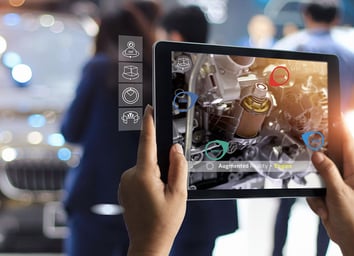 One of the examples referenced in the report looks at how companies are investing in augmented reality (AR) standard operating procedures (SOPs). This allows workers to access training information through in-context, mobile-responsive snippets. It also improves workplace efficiency, speeds up production ramp time while still ensuring workers have access to the necessary information to complete their job effectively.
Another example is AR-enabled training development, which allows employees to record step-by-step instructions as they complete a task automatically. Instead of having to stop what they are doing to jot down notes, they can say the steps out loud or even wear a wearable device that automatically measures and records the location, operating steps and any important data.
A third example is setting up remote operating centers to assist with scaling highly technical or rare subject matter expertise across the entire organization. For example, if you currently manufacture a product and you only have one specific division in one factory (out of many) that can create the necessary hardware that goes into the product, this is a single point of failure. You can reduce the risk by setting up a remote operating center. They can train other people on the team - often using AR training guides- on this highly specialized process.
2. Millennial and Gen Z Workers demand tech training solutions
In order to stay competitive and retain top Gen Z and Millennial talent in a hot job market, companies need to embrace modern training management software, which enables them to learn new skills and do their job better and faster.
Millennials were the first generation to grow up using the internet and smartphones. The survey found that almost 40% of millennials will seek employment at a more innovative company if their current job doesn't embrace new technology and systems.
In particular, chemical manufacturers and mergers and acquisitions (M&A) groups have embraced this shift and are readily investing in knowledge management and automation systems in order to recruit and keep the best young talent at their companies.
3. Significant opportunities lie in connected operations
One of the biggest hurdles that companies are currently facing related to training management is how to connect management and site-level execution. This is also where some of the most significant opportunities for digital training lie.
The site-level is where people, machines, and systems interact to create and launch the products. This is becoming increasingly automated and monitored by AR, mobile devices and wearable sensors. All of the SOPs and data is then aggregated into operational systems and automation processes to make better, data-driven decisions around risk assessment, safety, employee efficiency, and quality.
While companies have more operational data than ever before, it is mainly staying at the site-level. The real innovation comes when these findings are integrated into a modern, unified training management solution, which connects all of this site-level operational data to management and enterprise tech. You can take this a step further when you enable Industrial Internet of Things (IoT) technologies - such as Edge device controllers, advanced analytics, and data lakes - allowing you to merge site-level operational data with big enterprise tech findings, which connect operational data and lessons to corporate functions.
Eliminating these silos allows for the convergence of better decisions around risk, quality, and safety. Companies also have the benefit of ongoing data feedback loops allowing for continuous operational improvement and the ability to pivot quickly. For example, companies can stay "audit ready" and implement new compliance requirements without any downtime.
How to Take the Next Step for Your Company
A best-in-class modern training management system allows companies to be audit-ready, stay compliant, continue to innovate, retain top talent, and stay competitive in a hot job market.
4 Key Questions to Assess Your Digital Training Management Readiness:
Are you able to provide role-based training in an easy-to-digest, mobile-friendly format?
When there is an audit, are you able to quickly demonstrate full training compliance?
When there are changes in personnel or new compliance requirements can you quickly implement those changes globally?
Can your Training Management solution support new emerging technology such as AR, IoT, and mobile?
If you answered no to any of these questions, it's time to modernize your digital training management strategy. Download a complimentary copy of the new analyst report, connect with a training management specialist to discuss your specific needs, or visit our site to learn more about Veeva Training Management.