Time consuming, costly, exacerbated by COVID-19, and ready for modernization. These are just a few of the findings of the 2020 edition of the annual Advertising Claims Management Trends Survey released last week by Veeva.
The resulting report represents the experiences of 245 senior professionals across the consumer goods, cosmetics, food & beverage, and home & personal care industries with roles in marketing, legal, regulatory, and R&D, all of whom are actively involved in the process of creating, substantiating, or managing advertising claims.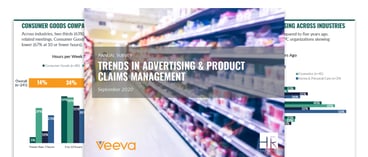 Context: The Role of Claims in Today's Consumer-facing Industries
Advertising and product claims are an essential tool for companies across industries to differentiate from competition, justify price points, and build a compelling brand. At the same time, advertising claims are coming under increased scrutiny, with consumers demanding transparency and forcing product accountability. Advertising claims challenges are becoming more common, and companies that can't respond to challenges quickly and confidently may be faced with protracted lawsuits, costly recalls, and perhaps irreparable damage to brands.
In 2020, the world of advertising and product claims is evolving fast - let's take a close look at key report findings to discover what's shaping this evolution.
Finding #1: Increasing Claims Activity
Claims development activity across the companies surveyed is increasing. This is no surprise, as competition has heated up across categories over the past several years driven in part by new, more agile entrants enabled by social media and ecommerce. In fact 67% of respondents reported increased claims development activity compared to five years ago. This was particularly true in the home & personal care industries (82%).
Finding #2: Time Consuming and Made More Challenging by COVID-19
Claims management is very time consuming across functions, with most respondents spending between 11 and 20 hours per week working on claims related activities. Half to three quarters of this time is spent in in-person meetings. As one might expect, a majority of respondents reported that the need to work from home brought about by COVID-19 has made the cross functional work required for claims management more challenging.
Finding #3: Larger Companies Claims Capacity Stretched Thin
Also interesting is the fact that the average number of people actively engaged in claims management does not tend to scale proportionally with company size, so those engaged in managing claims become severely stretched in larger companies.
Finding #4: Claims Errors Contribute to Increased Creative Rounds
This year we probed the process of claims management in the context of packaging creative. We found that companies typically review at least 3 rounds of packaging creative during the process of bringing new packaging to market, and that a majority of respondents report errors in claims or other copy up to 50% of the time. Somewhat ironically, errors in claims on packaging can often result in challenges by competitors or regulators, and respondents rated marketing and packaging costs as the highest expense related to a challenge.
Finding #5: Nearly All Are Seeking Better Solutions to Manage Claims
Given the critical importance of claims, the increasing activity to develop new claims with limited resources, and the potential for costly claims challenges, it's not surprising that 87% of respondents are looking for a better solution for advertising claims management.
Interested in learning more about modern solutions to manage packaging and advertising claims at your company? Secure complimentary access to Veeva's upcoming virtual Summit, including a dedicated Advertising Claims track with speakers from organizations such as Reckitt Benckiser, 3M, Colgate-Palmolive, Abbott Nutrition, and the National Advertising Division (NAD). View full agenda and register today.