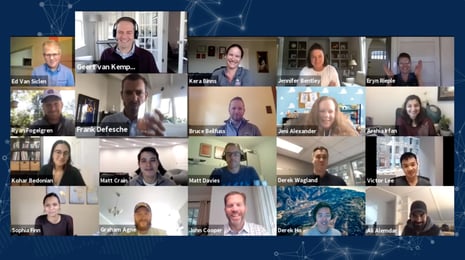 At the virtual Quality & Regulatory Global Summit, Unilever's Geert van Kempen received the 2020 Veeva Hero Award in recognition of his innovative collaboration and partnership with Veeva.
Dating back to 2008, the Veeva Hero Award honors pioneers like Geert who have gone above and beyond to help move their industry and organization forward. These innovators push boundaries and navigate change at their company to improve processes and deliver outcomes.
As Veeva General Manager and SVP Frank Defesche shared when presenting the award via Zoom, "A hero to Veeva is really a hero to all of our customers, as the hero is an individual that helps us become a better partner, not only to your organization, but to the broader Veeva customer community."
Speaking about Geert, Frank continued by saying, "Your vision, your challenge of the status quo, your insights into the needs within quality and manufacturing, have all made both Veeva and the QualityOne application better."
Frank went on to highlight the QualityOne mobile application, COVID-related priorities, and artificial intelligence (AI) advancements with Certificates of Analysis as areas where Geert has made significant contributions in 2020 not only for Unilever's benefit but for all Veeva customers using the QualityOne software solution.
In addition to an "extremely heavy" physical award, Geert was given the opportunity to select a charitable organization to receive a $2,500 donation in his name courtesy of Veeva.
Congratulations Geert on this well deserved recognition!