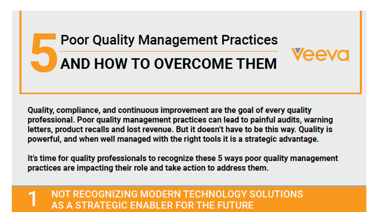 Poor quality management practices can lead to painful audits, warning letters, product recalls and lost revenue. But it doesn't have to be this way. Quality is powerful, and when well managed with the right tools it is a strategic advantage.
Does the threat of non-compliance keep you up at night?
You're not alone — and we're here to help.
In this roundup, we'll share the top 5 poor management practices facing quality professionals in 2019, including:
Not recognizing technology solutions as a strategic enabler for the future.
Asking for funding without showing the business value of Quality.
And more!
Download the roundup today to find out how to remain compliant, be proactive and meet your organizational goals.