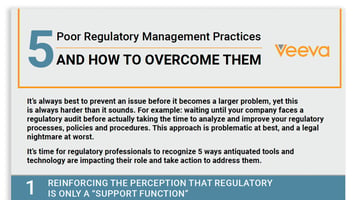 It's always best to prevent an issue before it becomes a larger problem, yet this is always harder than it sounds. For example: waiting until your company faces a regulatory audit before actually taking the time to analyze and improve your regulatory processes, policies and procedures.
Does the threat of a legal nightmare keep you up at night?
You're not alone — and we're here to help.

In this roundup, we'll share the top 5 poor management practices facing regulatory professionals in 2019, including:
Reinforcing the perception that Regulatory is only a "support function".
Not proactively seeking ways to improve efficiency.
and more!
Download the roundup today to find out how to remain compliant, be proactive and meet your organizational goals.