Advancements in digital technology have prompted consumer product and chemical companies to reimagine the way they do business. The product compliance function is not exempt from this demand. Yet Product Stewardship & Regulatory Affairs groups are often the last to find out about digital transformation and struggle to articulate what digital product compliance could look like at their organizations.
Drawing on extensive work with leading consumer product and chemical companies, regulatory compliance expertise, and our digital know-how, this blog post describes what digital product compliance is and the journey regulatory affairs organizations need to take to achieve it.
What is digital product compliance?
Digital product compliance is the adoption of digital technologies by the regulatory function to create new ways of working that meet changing business, customer, and stakeholder requirements. The objective of digital product compliance is to reduce operating costs, increase speed to market, build trust, and ultimately to deliver greater value to the business and its customers. At Veeva we call this Competitive Compliance.
Related Post: The Path to a Competitive Edge in Product Compliance
How does the product compliance function become digital?
There are many paths that leaders can take to digitize their regulatory operations and become a competitive compliance organization. From our experience, the best and simplest way is to conceptualize regulatory transformation as an iterative step-by-step process towards greater digital maturity. We refer to this as the Digital Product Compliance Journey.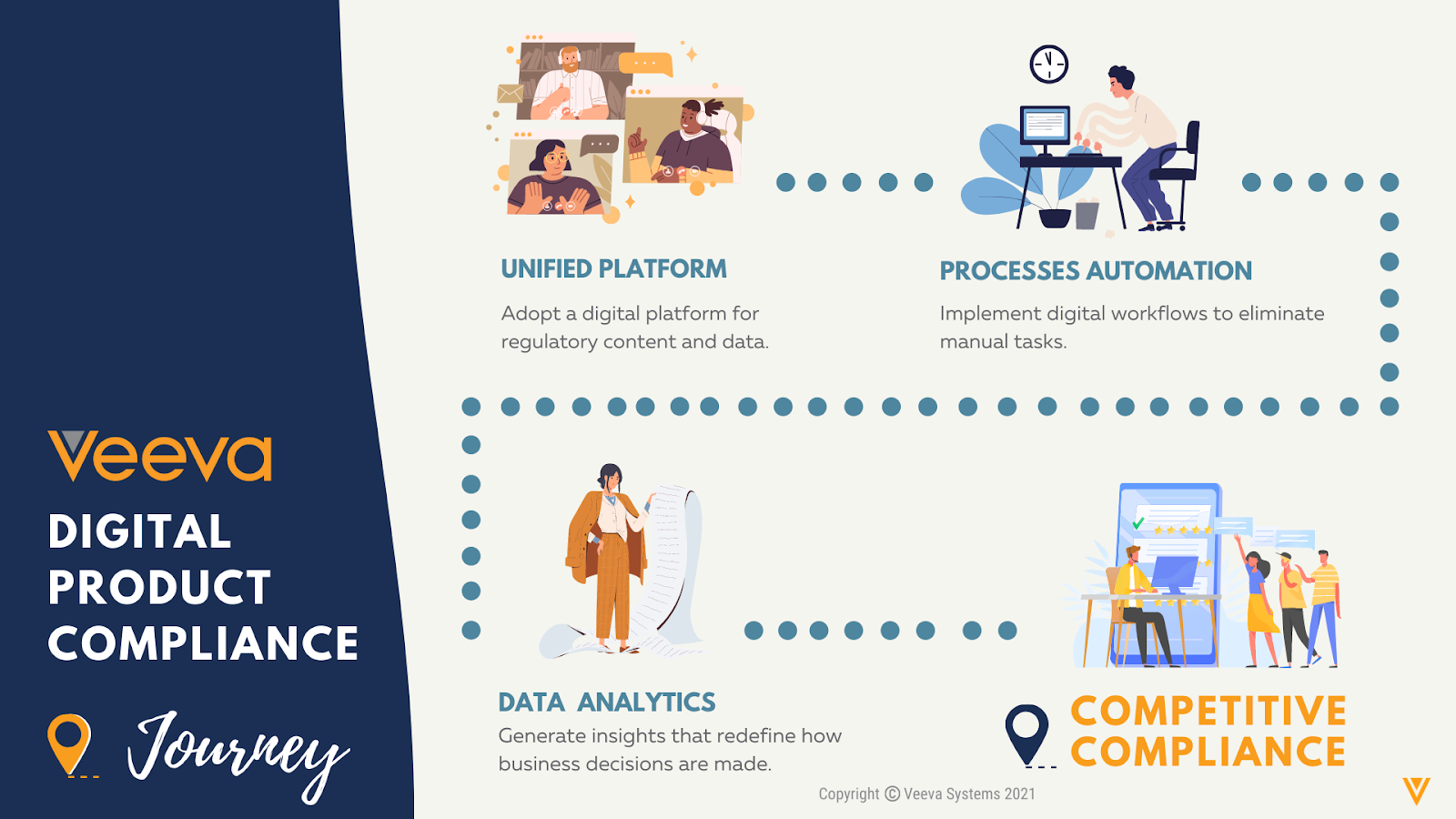 Product Stewardship & Regulatory Affairs leaders about to embark on their own digital product compliance journey should consider the following three questions:
1. Why is unifying regulatory content and data a necessary first step?
The content and data required to complete a compliance process can be on paper. Most often, however, they reside in fragmented IT tools such as file sharing services and spreadsheets. And, of course, a good deal of information often exists within people's heads. Consolidating regulatory content and data on a unified digital platform can facilitate the creation, capture, and flow of compliance information in a seamless fashion throughout the organization, converting disparate sources of information into a single source of truth that can help regulatory processes be carried out more efficiently.
Related Post: 3 Value Drivers for Product Compliance's Digital Transformation
Consider the following example scenario. Rachel, a Regulatory Affairs Manager at New Chemical Corp, runs her company's global registration tracking process. New Chemical Corp products must comply with a wide range of regulations; so to assess compliance, Rachel polls her regulatory colleagues across the globe to compile a list of all the product registrations and authorizations they completed that year. After collecting the responses, Rachel analyzes them and reports her findings to New Chemical Corp VP of Global Product Stewardship.
Rachel's tools for registration tracking, such as email, shared file drives, and spreadsheets, are mostly digital. However, the registration tracking process itself is not, forcing Rachel to toggle between multiple IT tools, data sources, and colleagues to extract the information she needs. New Chemical Corp could eliminate much of this work by consolidating regulatory content and data on a unified cloud platform, making registration information readily available in a consistent, transparent, and non-redundant way. Digitization on a unified cloud platform can also enrich the quality of datasets—regulatory specialists, for example, will manage compliance documents using structured metadata, ensuring greater data accuracy, consistency and completeness.
2. Where does automating compliance processes come in?
Automation is a capability that can handle repeatable tasks, eliminating or minimizing the need for human intervention. Workflow automation refers to automating the sequence of events in a business process such as the aforementioned global registration tracking or a request for regulatory information from a customer. If 30 percent of product compliance work is manual and non value added, as New Chemical Corp has found, then automation of certain processes and tasks can free significantly more staff time for strategic product compliance activities that require judgment and deep subject matter knowledge.
Extending the previous example, New Chemical Corp's global registration tracking process could be automated to pull product registration data in real-time and report it by type or region — all activities that Rachel currently handles manually. With automation, Rachel could also streamline the regulatory request management process and respond to customers in minutes rather than days. She could even ensure they receive automated status updates to guarantee that expectations are met.
One of automation's benefits is the audit trail it can create. By capturing data at every step of the process, organizations can gain more insight into who touched the process at what stage, reinforcing accountability and ownership. Like content and data unification on a digital platform, process automation can also enrich datasets by reducing the error rate typically associated with manual data entry and processing.
3. Is there room to add value with data analytics?
Analytics—the generation of insights from data—can be a struggle for many regulatory affairs organizations because the information they work with tends to be largely unstructured. Instead of issuing invoices, they interpret complex regulations. Rather than log inventory, they give critical compliance guidance to customers.
Also, data sources may not be consistent. Other enterprise functions may be able to draw from an enterprise resource planning system that manages their day-to-day activities. However, the product stewardship and regulatory affairs often have to gather much of their data from disparate sources like spreadsheets, outdated databases, shared file drives, and even from their colleagues' heads.
The first two steps of digital product compliance - adopting a unified platform for regulatory content and data, and automating regulatory processes - can help to change this equation by organizing compliance processes in a way that is conducive to data exploration. In addition, unifying content and data and automating processes can generate new data and support insights that may not have been possible before. The analytics capability this enables is valuable enough to merit attention on its own.
Management-relevant insights can be generated by correlating information across regulatory business processes. For example, analyzing requests for regulatory information by customer and product type can uncover previously-hidden patterns and glean meaningful insights that help management make better-informed and speedier decisions that create value for customers and the business.
Related Post: Chasing Product Compliance in a Consumer-Centric World
Summary
Getting digital product compliance right will ensure that your organization's product stewardship and regulatory affairs function is not only effective and efficient, but also creates exceptional value for the business and its customers. What we call Competitive Compliance.
Veeva's RegulatoryOne solution facilitates the digital product compliance journey by consolidating regulatory information, automating compliance tasks, and generating strategic insights, all on a unified cloud platform. To learn how Veeva can help you start the digital product compliance journey at your organization, contact us to talk with an expert.
Subscribe