Regulatory requests are incoming queries to obtain information from regulatory data and documents. Requests may come from authorities, customers, partners, or private standard-setting organizations, and are often recurring. Common requests are safety data sheets, country-specific registrations, or product certificates (i.e., ecological, vegan, halal, etc.).
As electronic data sets continue to grow and regulatory pressure continues to increase, chemical and consumer goods companies are faced with an ever-expanding number of regulatory requests. Regulatory teams in large organizations receive thousands of requests every month, and fulfilling these is no easy task. The documents and data needed to respond to requests are often scattered across email and document management systems, file-sharing software, and even homemade spreadsheets on local drives. This makes collecting relevant regulatory information a very inefficient and time-consuming process with a high risk of compliance error. Deloitte, a consultancy, found that 30% to 50% of a regulatory team member's time can be spent looking for information1.
Automated Regulatory Compliance Best Practices
Regulatory organizations that receive a large number of requests can adopt new ways of working to overcome these challenges. They can streamline request workflow, enhance response quality, and reduce operational costs all while promoting customer engagement, strengthening brand trust, and accelerating business growth.
So, what does it take to create a world-class regulatory request management process? Here are 5 best practices for regulatory leaders to consider:
1. Embrace a customer-centric mindset
Re-envision regulatory affairs as a customer-facing function that can drive revenue by delivering strong, reliable compliance that builds trust and creates long-term relationships with customers. The regulatory request management process is the optimal opportunity to deliver positive customer experiences that act as a competitive differentiator and reposition regulatory affairs as a strategic business partner.
Watch the recording: Customer-Centric Regulatory Compliance as a Business Enabler
2. Connect data and documents on a unified quality management platform
Aggregate regulatory content on a unified cloud-based platform so that all relevant data and documents are globally accessible, visible, and controlled. Managing response information in a single source of truth enables regulatory teams to easily search for the most up-to-date documents and fulfill incoming requests accurately and efficiently.
3. Create a standard and scalable regulatory request process
Establish a best-practice process to ensure regulatory requests are fulfilled effectively and efficiently, even as the organization grows and the volume of requests increases. Having one global end-to-end process can break down regional silos, enabling regulatory professionals to flexibly respond to regulatory requests based on capacity–not geographic location.
Read Product Brief: Veeva RegulatoryOne Regulatory Requests Management Product Brief
4. Leverage regulatory compliance automation
Incorporate automation into your request management capability to reduce the overall workload for your regulatory team by removing repetitive tasks. For example, use automation to route requests to the appropriate team, locate approved response documents, follow up on secondary requests, and keep stakeholders updated on estimated response time.
5. Generate data and analytics
Capture data and track KPIs related to regulatory requests to uncover patterns and pinpoint emerging challenges that can inform strategic business decisions. Regulatory teams that have access to rich datasets – request type and volume, response lead time and closure rates–can leverage the predictive capabilities that data provides to proactively respond to customers and build trust.
TAKE ACTION TO MODERNIZE REGULATORY REQUEST MANAGEMENT
Getting Regulatory Request Management right ensures that your regulatory team can reduce manual tasks and focus on strategic regulatory work, all while promoting a better customer experience and building trust. A flexible cloud solution like RegulatoryOne can cut through the complexity and configure regulatory workflows that fit you and your customers' needs. To learn how Veeva can help you implement a world-class Regulatory Request Management process at your organization, contact us to talk with an expert.
1https://www2.deloitte.com/us/en/pages/life-sciences-and-health-care/articles/growing-regulatory-strategic-value.html
Click to view entire infographic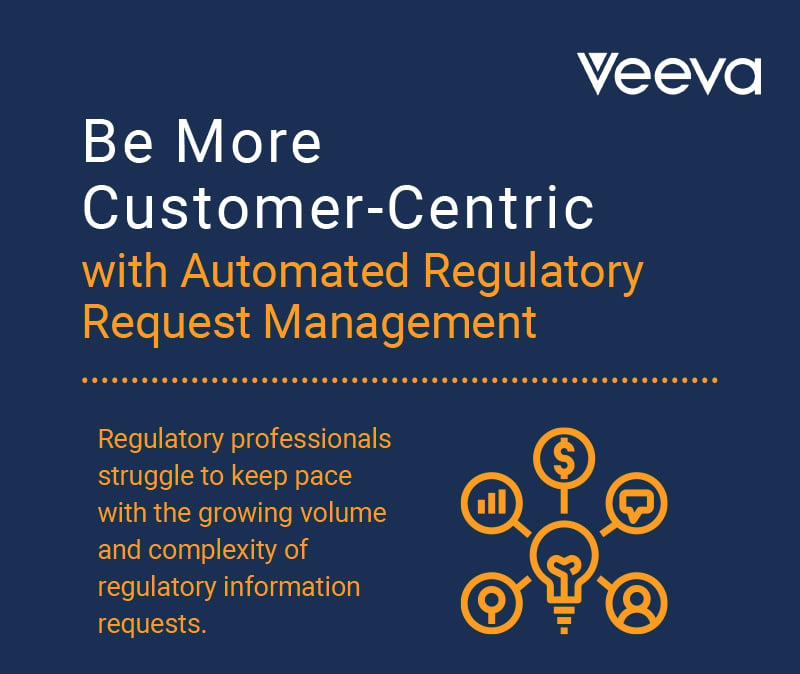 Subscribe