Survey of 200+ Regulatory Affairs professionals shows existing and new challenges, and how cloud technology is positioned to transform how work is done.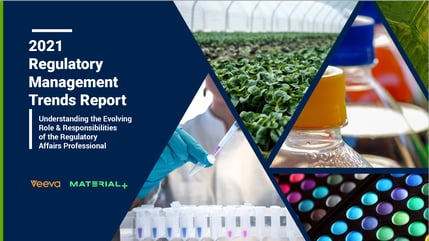 57% of regulatory affairs professionals report that accelerating digital transformation is a key priority for 2021. What is your organization's strategy for regulatory's digital transformation? If you haven't developed one, you may be at risk for falling behind.
This is just one of many findings of the new 2021 Regulatory Management Trends Report conducted by Material and published by Veeva. This complimentary research report reveals what opportunities global regulatory affairs professionals are pursuing this year, and what new and emerging challenges they face in their work and organizations.
The Report analyzes the survey responses of 200 regulatory affairs leaders from regulated industries such as specialty chemicals, crop science, consumer goods, cosmetics and food & beverage.
To give you a sample of the insights contained in the Report, here are 6 key takeaway for regulatory affairs professionals in 2021:
91% of regulatory professionals say their company expects them to do more with less right now. After a tumultuous year for businesses across the globe, regulatory professionals have their hands full. Their teams are tasked with managing global expansions and getting products to market faster than ever before, while navigating the new complexities of keeping existing products on the shelf.


Simultaneously, they are answering demands for greater transparency and supporting increasingly ambitious corporate sustainability initiatives. 61% of regulatory professionals indicate that expanding their company's sustainability commitment is a top objective for 2021, while another 55% say that increasing transparency is on the agenda.

These priorities have expanded the responsibility of regulatory affairs to incorporate more holistic product stewardship.




Amid mounting pressure on the work they do, the role of regulatory affairs teams has been elevated within most organizations. Nearly all regulatory professionals (94%) agree that their teams have become more of a strategic partner within their organization

due to COVID-19 as businesses have scrambled to conform with rapidly changing consumer demands and regulatory pressures. Another 92% indicate that their employer has placed greater importance on the work happening across their team due to the pandemic.




But regulatory professionals still feel they are not treated as true strategic decision makers in the business. As one survey respondent from the food & beverage industry put it, "[A true strategic partner would be] integrated more to the start of business decisions, including the idea portion before we go to the development stage of a new deal with a customer or supplier."


Businesses are using a mix of software solutions to manage their daily regulatory processes. 94% are still using standard enterprise tools like the Microsoft Office Suite and Google Docs. However, this mix does not meet their current and projected business needs as 39% recognized the increased need for digital transformation related to regulatory affairs. As one vice president at a consumer goods company characterised it,

"I think what is most needed at this stage is new software solutions, because the traditional software solutions are no longer suitable for our development route, and we also need to provide more professional technical personnel."

Survey respondents expect an average increase of 33% in regulatory technology budgets this year.

Given the increasing complexity of regulatory workloads – and the need to collaborate more efficiently than ever, often remotely - most businesses are poised to invest in their regulatory technology. But while companies are investing in regulatory affairs, most respondents thought it was not at a sufficient pace to respond to the rapidly evolving regulatory environment.
Intrigued? See more data and insights on these regulatory management trends - download your complimentary copy of the full 2021 Regulatory Trends Report.
To learn more about Veeva's cloud applications for managing regulatory compliance - from registrations and dossiers to documents control - visit our website or contact a specialist to discuss your organization's unique circumstances.

Subscribe