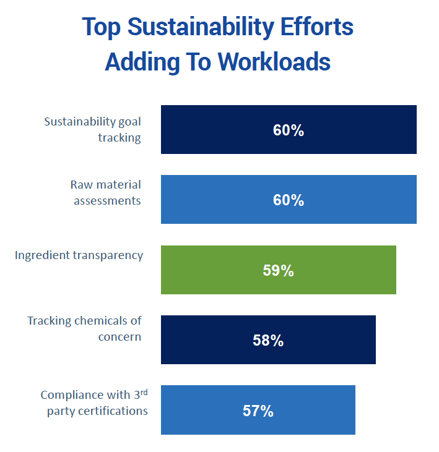 Expanding their company's sustainability commitment is a top objective for 61% of regulatory professionals in 2021, with the same proportion believing that their company's sustainability efforts are adding to their workload.
How are regulatory professionals working in the specialty chemicals industry expected to successfully take on this additional responsibility?
This is just one topic explored in the new 2021 Regulatory Management Trends Report published by Veeva. With findings based on a recent survey of 200 global regulatory affairs professionals, the Report reveals what opportunities they are pursuing this year, and what new and emerging challenges they face in their work and organizations.
To give you a preview of the findings contained in the Report, here are the top 6 findings for specialty chemical regulatory affairs professionals in 2021:
91% of regulatory professionals say their company expects them to do more with less right now. After a tumultuous year for businesses across the globe, regulatory professionals have their hands full. Their teams are tasked with managing global expansions and respond to customer and authority requests faster than ever before, while navigating the new complexities of keeping existing products in market.


Diverse business priorities for 2021 divide focus. Regulatory professionals surveyed are focused on getting products into customers' hands as quickly as possible, breaking into new markets, and advancing their company's sustainability, transparency and digital transformation efforts.


The growing ambitions of corporate sustainability efforts at many organizations today means that regulatory professionals are now tasked with more holistic product stewardship – in addition to their traditional responsibilities. 61% of regulatory professionals indicate that expanding their company's sustainability commitment is a top objective for 2021, while another 55% say that increasing transparency is on the agenda.


Pursuing sustainability goals increases workload. About 3 in 5 regulatory professionals believe that their company's sustainability efforts are adding to their workload. Their growing list of responsibilities include tracking chemicals of concern, achieving compliance with 3rd-party certifications, ingredient transparency, raw material assessments, and sustainability goal tracking.


Beyond increased automation across processes, mobility and simplicity of regulatory functions is on the wish list. Nearly 9 in 10 (87%) regulatory professionals believe that having access to their regulatory systems via mobile devices like phones or tablets would allow them to work more efficiently.


Looking forward to the next five years, ambitions broaden

. Survey respondents reported that increasing transparency and operational excellence, making their innovation to market more agile, expanding into new categories, and improving the regulatory profile of their products globally are the likely top focus areas for the next five years.
See more data and insights on these regulatory management trends - download your complimentary copy of the full 2021 Regulatory Trends Report.
To learn more about Veeva's cloud applications for regulatory compliance, visit our website or contact a specialist to discuss your organization's unique circumstances.
Subscribe