This blog was co-authored by Geert Van Kempen and Rita Iacoviello.
Digital transformation across industries has given us access to modern tools that help our organizations and teams accomplish critical operations faster and with better results. While the food and beverage (F&B) industry has lagged behind some of its peer industries in this modernization, recent innovations and new offerings promise to speed up its digital transformation.
Our team at Veeva believes that digital HACCP solutions can move the F&B industry forward. That is why we're proud to introduce the first cloud-based digital HACCP management solution designed to meet the standards and scale of the world's largest F&B enterprises. In this article we share our vision for a digital transformation of HACCP management, and how it will provide a more effective and efficient way to manage HACCP and by extension, food safety at F&B enterprises.
Outdated Methods Lead to Unnecessary Risk and Waste
Since its development by Pillsbury and NASA, HACCP has evolved into one of the foundational systems to manage food safety in the F&B industry. Beginning with its incorporation in the Codex Standard of Food Hygiene in 1969, HACCP has evolved to become a principal requirement in food safety standards, including ISO 22000 and the GFSI benchmarked food safety audit schemes. This has resulted in the wide deployment of HACCP across the F&B value chain, from fresh produce, food ingredients supply, manufactured foods and beverages, to retail and restaurants.
F&B companies follow well-established HACCP principles (as defined in the Codex), creating templates in the form of spreadsheets or documents for HACCP studies. These include various worksheets or chapters for defining product requirements, process hazard analysis, and identifying control points.
Despite its importance to food safety, the F&B industry lacks purpose-built digital solutions for HACCP management. This means that even market-leading companies still rely on lengthy documents or complicated spreadsheets for managing HACCP studies. These are often paired with generic drawing tools for process flow diagrams, making them burdensome to maintain.
HACCP study documents can become large and complex due to the amount of data they contain. Unfortunately, this results in the outcomes, HACCP plan, often being buried somewhere within the study document. This can make it difficult for factory operators, responsible for safeguarding the manufacturing of foodstuffs, to get a clear overview of important information. These operators must ensure proper implementation and execution of the control points (OPRP or CCP) in every batch produced.
HACCP studies stored in documents and spreadsheets often allow data in free text form, leading to poor control of master data used across the study. For example, is "foreign material - metal" the same hazard as "metal foreign matter" or is "1x/day" the same monitoring frequency as "daily"? This makes the comparisons across studies hard.
Once created, HACCP teams face a significant burden to keep HACCP study information in these documents or spreadsheets up to date. Keeping up with hazard definitions, critical limits of control measures, and up-to-date flow diagrams, while managing document reviews and updates, can be challenging and must often be done manually.
Large F&B companies also face challenges sharing crucial information between subject matter experts, often in R&D, with food safety teams in factories. Changes in ingredient hazard risks, along with new products and processes, are time consuming to properly communicate and act upon. This dilemma calls for a better system to enhance knowledge-sharing and facilitate communication between teams to ensure food safety and innovation throughout the industry.
Often, this information is stored in siloed systems, spreadsheets, or documents, and then manually shared with factories for review, and, from time to time, to update their local HACCP studies. In fulfilling this task, the information is often copied manually, causing it to be out-of-sync with the source and creating difficulties for the user.
Ripe for Modernization: The Value of Digital HACCP Management
We strongly believe that modern cloud-based digital systems can effectively address these challenges while delivering considerable business value. We envision digital HACCP systems acting as "food safety control towers", managing numerous sources to inform the hazard assessments, while connecting with control systems in factories to implement critical controls identified in the HACCP study. Moreover, we envision a tightly embedded process flow diagram at the core of the HACCP study serving as the cockpit, providing direct access to the most relevant data. Additionally, it will trigger alerts for users to take prompt action on urgent situations.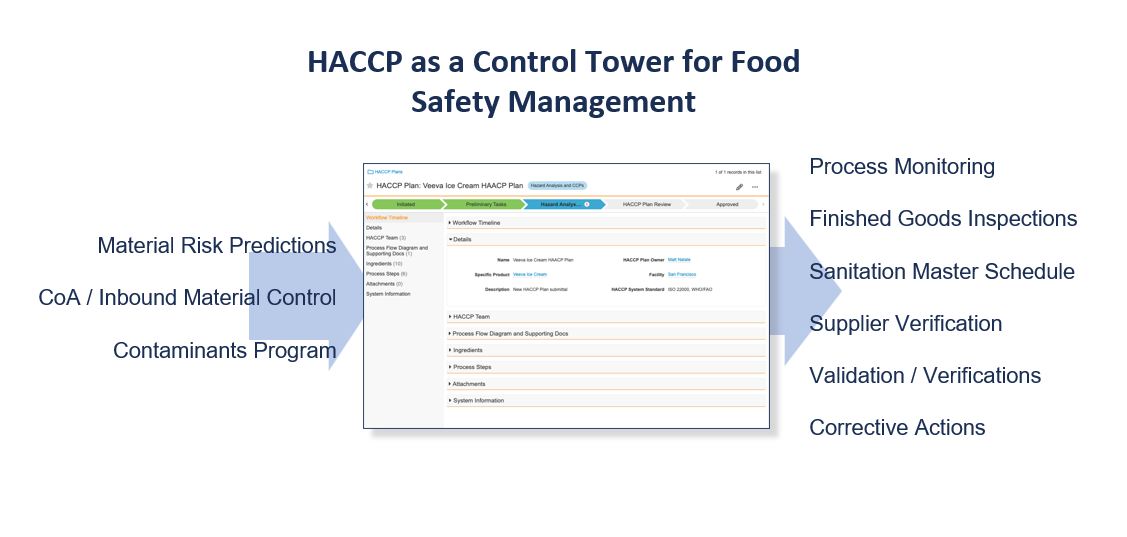 Digitization breathes life into HACCP studies, enabling a "live" system that swiftly responds to changes in its data source and guides systems that depend on its outputs.
We are bringing this vision alive by providing our customers with a digital HACCP solution that is based on structured data, clear workflows and notifications, simple user interfaces, and deep integrations with upstream and downstream systems.
Structured data enables reuse of master data of hazards, risks, critical controls and process information in and across studies, enabling comparisons and insightful reporting. Workflows and notifications provide HACCP teams with a structured study approach and inform them of changes in master data. Integrations with systems like ERP and PLM bring product/ingredient info into the study, enabling automated hazard analysis records, when combined with central repositories of hazard/risk information.
We plan to integrate with horizon scanning and material risk prediction systems for up-to-the-minute insights into evolving threats. It's all about informing manufacturing facilities in real time about changes in risks or emerging hazards, empowering them to respond immediately and maintain control of food safety.
In our vision, an integrated flow diagram, deeply embedded in the HACCP study, would allow for automatic integration of the process flow steps with hazard analysis and control points. Such a flow diagram goes beyond just creation, but offers visualization of the most critical outcomes of the study and acts as a cockpit for direct and visual access. With critical control points and their control measures being automatically incorporated, the flow diagram ensures that end users can stay on top of the most important information.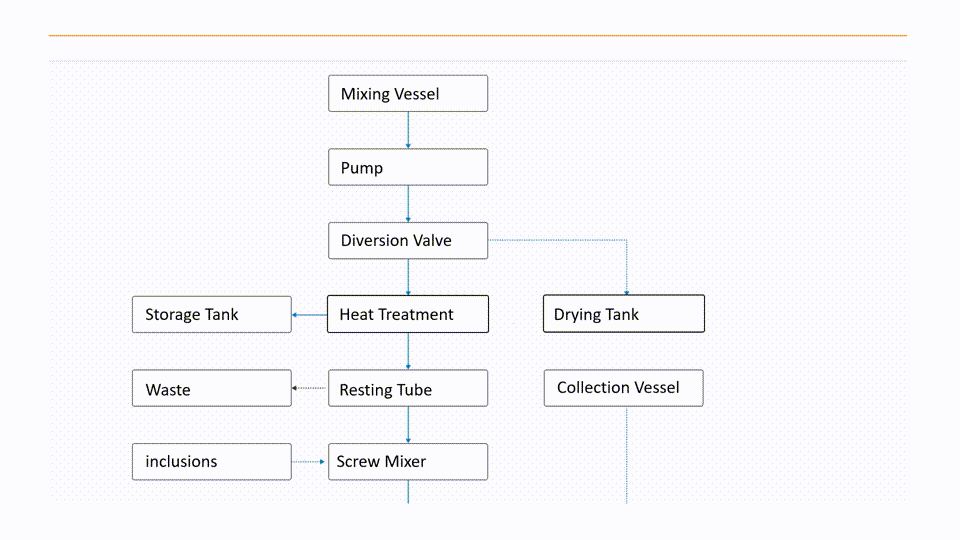 Pictured: How an integrated flow diagram visualizes critical controls and acts as a cockpit for direct and visual access
As we develop a more efficient way to create individual HACCP studies, we're also taking a portfolio view and enhancing the "governance" of these studies across large F&B enterprises.
Companies in the food industry often face challenges when deploying HACCP across multiple product portfolios, factories, and product lines. With food safety and manufacturing design expertise centralized in R&D centers and corporate food safety functions, these firms sometimes resort to "prototype" HACCP studies. These are generic studies developed by R&D experts for a portfolio of similar products and using a reference production process. Factories then use these prototypes as a reference for their own factory-specific studies.
Our vision for digital HACCP solutions is to enhance the effectiveness and efficiency of the governance process. This includes not only the ability to quickly and accurately translate a prototype study into a draft factory study, but also to track any changes made to the prototype and generate comparisons between the two. With these capabilities, the process of reviewing and sharing knowledge will be streamlined and seamless. By making these improvements, we can ensure that effective governance is achievable and sustainable.
Inspired? Let's Explore the Possibilities for Your Organization
We are thrilled about the potential of cloud-based digital HACCP solutions for the food and beverage industry! If our vision resonates with you, please get in touch with us for further conversations, inquiries or a demo of our unified food safety and quality solution.
Subscribe