Quality professionals no longer focus solely on product or service quality. Today, the quality function is involved in almost every aspect of a company, from customer interactions and compliance management to environmental health and safety, supply chain management, risk management, and more.
A key reason for this broadened scope is the skills that already exist within the quality department. If you already have experience dealing with quality compliance, you already have many of the skills for environmental health and safety (EHS) compliance. If you're already versed at risk management from a quality perspective, supply chain risk isn't much of a reach.
Sophia Finn, director of strategy, QualityOne at Veeva Systems, agrees. "More is expected of the quality function, from managing risk to addressing sustainability and transparency across the supply chain," says Finn, adding that the extended scope has also changed the focus. "As quality is elevated, the duties shift from tactical—like fighting fires—to more strategic—like determining how quality can help companies meet their objectives."
As Finn points out, this means quality professionals must be more collaborative. It means moving away from the quality department being the "police" to being a partner. "It also means that the quality department needs to teach the rest of the organization the importance of their work, why quality is important, why regulations are necessary," says Finn. "When the rest of the organization understands this, it makes it easier to work together and determine better corrective actions and continuous improvement projects, which in turn should reduce repeat issues and put companies on the path to operational excellence."
Of course, there is a caveat. As quality professionals expand their duties, they also have to expand their knowledge. Not only do they need to be up to date on regulatory requirements and standards, but they also must understand company objectives and find ways to support them, such as reducing waste by reducing rework or scrap, or using complaint data to improve product design, explains Finn.
Unfortunately, while the quality function has expanded, the tools haven't always kept pace. Today's quality department needs visibility into all aspects of the company, not just manufacturing production data. This means, looking at data collected from multiple systems across the entire organization, the entire alphabet soup of ERP, CRM, LIM, EHS, and PLM systems. With no integration between these systems, the quality department is stuck trying to implement Quality 4.0 using Quality 0.4 tools. Rather than manually juggling data from half a dozen legacy software platforms, not to mention the ubiquitous Excel spreadsheet, what is needed is shared data that provide a single source of truth for key measures across the entire organization. This includes not just production data, but also training records, customer complaints, safety data, supply chain data, and even financial data.
According to ENGINE Insights' "2021 Quality Management Trends Report," one of the top quality management challenges is maintaining a centralized global repository of all documents across the organization. Another is fully integrating an electronic quality management system (eQMS) into organizational workflows to enable process efficiency and effectiveness. Also important are remote communication resources to address nonconformances and respond to audits, quality culture, and using data to make decisions proactively, according to the report.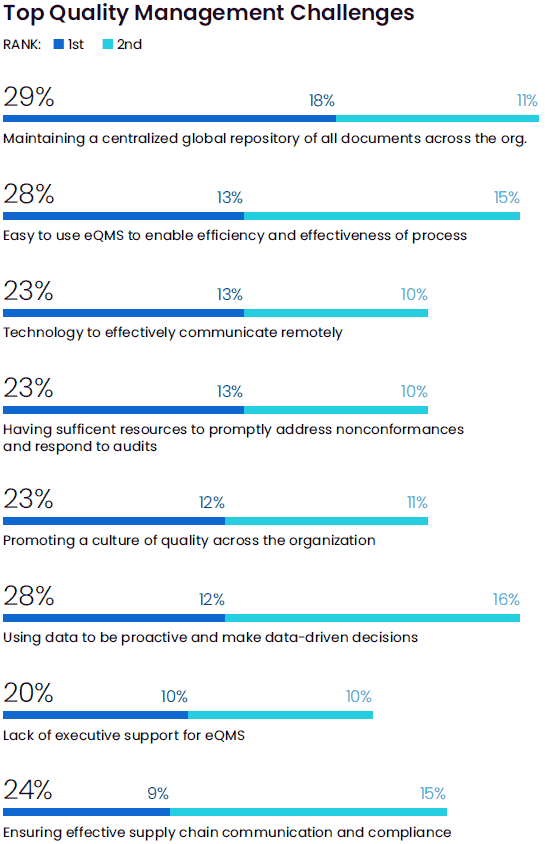 The same report shows that among the top supplier management challenges, companies report that they struggle to manage suppliers with timeliness and maintain traceability of supplied materials. Some of these problems can also be attributed to a lack of proper tools to monitor and respond to supply chain issues.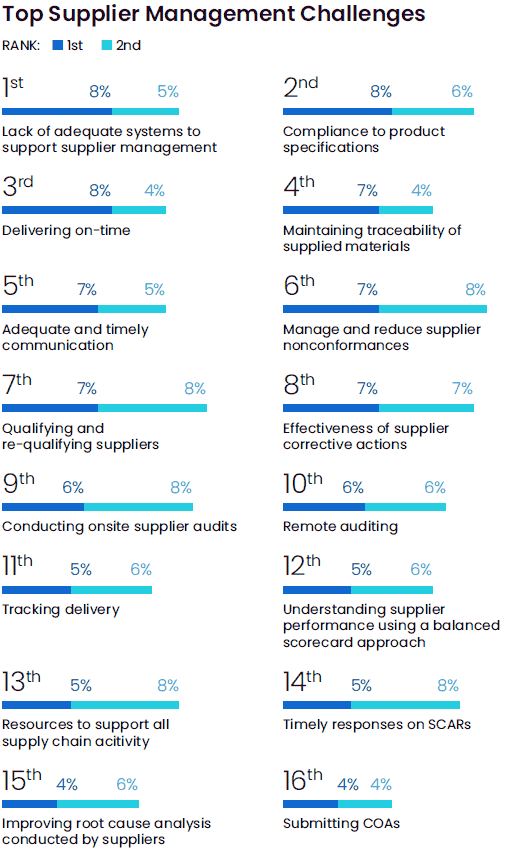 What to consider when updating your eQMS
Giving quality professionals a single platform that can capture all the data and their interdependence can help lead to more automated processes and common workflows, as well as more transparency and accountability within the system. As one respondent told ENGINE: "[A top challenge is for staff,] especially newer staff, to know where to look [for information].... Everybody wants to be able to access everything very quickly."
How do you "access everything very quickly?" The term is a cliché by now, but really, the key to integrating data across an entire organization does require a "digital transformation." According to the ENGINE Insights report, although third-party cloud software is the most commonly used tool to manage quality, "companies continue to use processes that rely on spreadsheets, shared drives, documents, and email. Many use a combination of tools as they move toward a unified approach across the organization."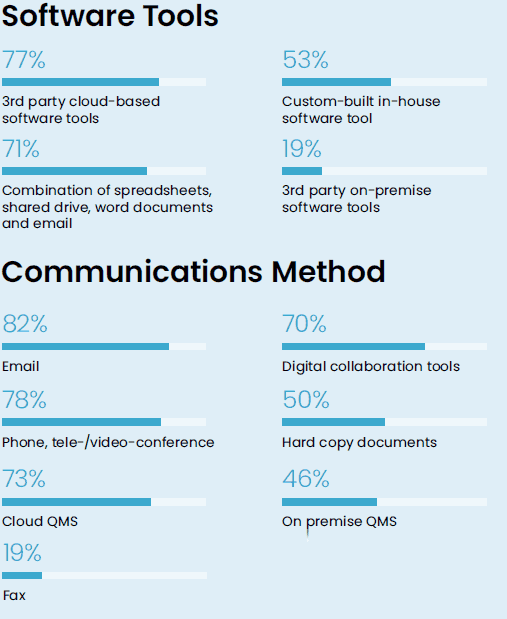 A unified approach means not only converting manual methods into automated methods, but also transforming older digital systems—both hardware and software—into systems that can more easily collect, share, and analyze data from other systems across the enterprise.
This doesn't necessarily mean throwing out all the software you already have and replacing it with "one ring to rule them all." It would be unrealistic to expect one software to address each business area comprehensively, says Finn. "Ideally, you'd want software solutions that are really great at what they do and connect the relevant data across them for a seamless, efficient experience."
Return on investment
Integration comes at a cost, of course, in terms of manpower, software expenditures, and costs associated with diverting resources from other projects in order to put together an integrated system.
The big question is, what is the return on investment for an eQMS? For this survey, anyway, the ROI was largely anecdotal, with respondents saying that they didn't have a formal or informal way to measure the ROI. However, according to the survey, "Participants did identify several metrics that can impact return, but noted they are difficult to quantify, especially when talking about cost avoidance vs. cost savings. Despite these challenges, all believe investment in a QMS is the right decision."
During in-depth interviews, participants mentioned several metrics that they believed would impact ROI. Most of these are common sense and what you might expect with any process improvement, including:
Cost of quality
Right-first-time and perfect-order percentages
Supplier performance
Efficiency/productivity gain
Reduced head count
Reduced nonconformances
Reduction in waste/breakage
A useful resource on how to look at and quantify a cloud-based eQMS investment is the three-part series "Moving to Cloud Software Has Never Been More Valuable (or Urgent)."
What to consider when updating your eQMS
If you are considering updating your QMS, here are four criteria to look at, says Finn.
Critical capabilities
Don't just focus on features and functionality. Although that was important for client/server, on-premises-type software, it doesn't apply as much to cloud-based solutions that can easily receive ongoing feature updates and improvements. Business needs will change over time, so don't fall into the trap of looking just for features that will mimic how you're working today. Revisit the vision section of your business case and determine what critical capabilities align with how you want to work.
Total cost of ownership
Cost must be looked at as a holistic measure. Don't simply see a lower license price and ignore significant annual maintenance fees. Expect vendors to offer one-year contracts, and consider it a red flag if they don't.
Implementation and service
Your experience with a vendor doesn't end when you sign the purchase order. Achieving your vision and strategy depends just as much (if not more) on a vendor's implementation and customer service expertise.
"Take this time to explore what kind of support you expect," says Finn. "How does this vendor work with customers to achieve their goals, and what kind of additional support would they provide if you're unsatisfied? Will you be OK with support only by phone, email, or ticket system?"
In addition, what resources do you expect the vendor to offer in terms of training, events, best practices, consulting, and go-live support? How long are you willing to wait to resolve an outstanding issue?
Innovation and flexibility
Without innovation, companies become more vulnerable, less efficient, and lose competitive ground. So, another consideration is whether a vendor will encourage your company to adopt best practices and suggest innovative new solutions to address your business problems. In other words, sometimes it's good to have a vendor that challenges you to innovate, rather than the other way around. As long as their software is constantly improving, flexible, and up to your needs, it can deliver the productivity gains that are needed every year for you to stay competitive.
Conclusion
The pandemic has focused attention on software systems in general, as companies work with both a remote and reduced workforce. In addition, given the expanded scope of the quality function, and as legacy systems reach the end of their life cycles and companies look at how to invest in future systems, cloud-based eQMS systems will come to the fore. The biggest problem will be convincing the organization that an investment in a QMS that gives insight into activities across the company is worth the investment.