42% of quality leaders plan to upgrade to a global eQMS in 2021, according to a new research survey conducted by Engine Insights. What are your organization's plans?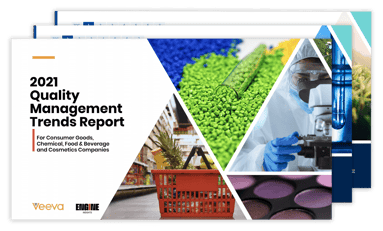 This is just one of many findings of the new 2021 Quality Management Trends Report. This complimentary research report reveals what opportunities global quality leaders are pursuing this year, and what new and emerging challenges they face in their work and organizations.
The Report analyzes the survey responses of 250 Quality Management leaders from regulated industries such as consumer goods, cosmetics, food & beverage, specialty chemicals, and crop science. Additionally, it contains insights from 12 in-depth interviews with quality leaders in North America and Europe to provide a more nuanced representation of quality in 2021.
To give you a sample of the insights contained in the Report, here are 5 key takeaway for quality management leaders in 2021:
Quality management is maturing as companies seek greater efficiency and effectiveness. Survey data found that most companies are well along the path to maturity in managing quality. Quality management maturity means using a QMS globally across the organization, shared data that provides a single source of truth, automated processes, common workflows, transparency internally and across the supply chain, accountability, and a systematic way to identify and exploit opportunities. Although quality management is relatively mature, there is room for companies to mature further.



We are in the process of arguing for and procuring a QMS. There is a push to do this now due to customer obligations, which have become more and more intricate over the years. Customers are pushing their liabilities down through the supply chain. They want greater and greater transparency and accountability and say our current systems are inadequate. We're still doing risk assessments in spreadsheets. Our customers are saying that's no longer a viable option. Customers recognize that if you don't tie the risk assessments to your management system and your task flow work processes, then you're missing opportunities to improve processes and reduce risk. This is
a huge challenge for us, and with our antiquated systems, it's just becoming impossible to keep up.
- Speciality Chemicals, QHSE

Supplier management challenges are both pressing and wide reaching. Lack of adequate systems and specs compliance are companies' biggest supplier management challenges. However, there seems to be a lack of consensus about which supplier management challenges are most pressing. Most of the supplier management challenges asked about in the survey were selected as first or second most challenging by roughly the same number of respondents. Were your top challenges on the list?


The pandemic has increased the urgency to manage risk and move forward with digital transformation. Additionally, the pandemic has made adding headcount less important. There may be opportunities for companies to move funds budgeted for headcount toward digital transformation and QMS. Remote auditing has become increasingly important due to the pandemic.


Quality & EHS are converging. Quality professionals are often responsible for EHS, as well as quality. Surveyed companies typically have separate tools for quality and EHS, but professionals want a single solution that handles both.



Technology helps us get closer to the idea of '100% inspection automatic product release.' You could call it 'automatic quality everywhere.' This entails testing all the products without human intervention. Starting with controlled inputs

means you can trust your processes to deliver controlled outputs. We're removing the human touches. Every touch is a loss, which we are trying to get away from. We're using data to get to the next frontier.


- Consumer Goods, Quality Assurance

Companies are investing in digital transformation and cloud-based QMS. These investments will alleviate a range of challenges, especially those related to supplier management. Companies require a QMS solution with a supplier portal that handles documents, audits, and supplier scoring. Other top investment priorities for 2021 are data analytics visualization tools and automation.
See more data and insights on these quality management trends.
Subscribe