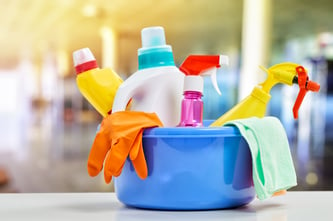 The emergence of novel coronavirus (2019-nCoV) is providing a valuable case study around hard surface disinfecting claims in the context of a dynamic and urgent public health crisis.
When an external shock like this disrupts the status quo around product claims, what can we learn? I've identified four generally applicable insights relevant to companies across categories.
Key Findings:
Any major category disruption or change in the product claim environment will lead to questions by consumers and the need for claims to answer these questions.
In the absence of clarifying claims, social media will take over, often increasing the level of misinformation and confusion.
In regulated categories, government agencies can facilitate this process if appropriate guidance is in place.
It is imperative to act quickly through available channels to get new claims in place, answer consumers' questions, and dispel myths.
1) Consumers are Concerned and Have Questions:
Consumers are concerned about the possible spread of novel coronavirus and want to know what they can do to help protect themselves and their families. Specifically, they want to know what disinfecting products are effective against this specific virus. Across categories, any significant disruption to the status quo in the category or claim environment will result in questions and the need for new claims. A similar though less dramatic example of this sort of reaction would be the desire for "free from" claims in cosmetics and personal care following California's Proposition 65 and general increased awareness of potentially harmful ingredients.
2) Without Clear Answers Social Media Takes Over:
At least in the United States, manufacturers of disinfecting products were initially not able to make efficacy claims related to novel coronavirus because they had not tested the efficacy of their products against this specific strain of coronavirus and gone through the required U.S. EPA approval process. Therefore by law they could not make any claims against this emerging virus. So, social media took over. Consumers speculated about what products might be effective. Rumors spread that Clorox and Lysol knew about this outbreak ahead of time because they had an efficacy claim against coronavirus (in reality a different strain). The World Health Organization even shared a myth busters web page to help dispel some of the ideas circulating about what products may or may not be effective against novel coronavirus. Social media became filled with misinformation and speculation.
3) In This Case, Regulators Were Prepared:
At least in the United States, the novel coronavirus is a good example of a smoothly functioning relationship between the regulators (in this case, the U.S. EPA), and companies manufacturing disinfecting products. As cases began to appear in the US, and other countries, the EPA and regulatory bodies in other countries focused on containment. Having learned from previous outbreaks (e.g. SARS), the U.S. EPA announced on January 29 that it had activated it's Emerging Viral Pathogens Guidance for Antimicrobial Pesticides. This guidance, enacted in 2016, allows antimicrobial manufacturers who have a prequalified emerging viral pathogen designation, to make claims against an emerging pathogen, in this case novel coronavirus, without going through the lengthy efficacy testing and master label submission process that would normally be required. Regulators intervened to accelerate the claims approval process. Though by no means a perfect parallel, the recent FDA warning letter to Purell is a timely example of a company facing what it perceived to be an inflexible and inadequate FDA monograph and pushing the limits on claims too far.
4) Manufacturers Moved Quickly with New Claims:
Following activation of the EPA's Emerging Viral Pathogens Guidance, disinfecting product manufacturers were able to move quickly to address consumer questions with new efficacy claims against novel coronavirus for products that qualified. Following up on the earlier example of initial confusion, both Clorox and Lysol have now added claims against novel coronavirus to their respective websites and social media accounts. The specific language of these claims is taken from the EPA guidance (Attachment 1). Consumers now have clarity around how they can help prevent the spread of novel coronavirus, which presumably has reduced the level of speculation on social media.
The novel coronavirus case is an example of regulators and manufacturers working together in difficult circumstances to do what's best for the consumer. The EPA learned from previous outbreaks that an expedited pathway was needed to enable companies to make claims that may not be formally approved. With the new Emerging Viral Pathogen Guidance in place, brands like Clorox and Lysol were able to pivot quickly to address consumer needs for new claims in a compliant and timely manner. All regulatory agencies and companies across categories can learn from this example.


---
About the Author
As director of strategy at Veeva, John Cooper is responsible for the overall strategic direction for the Veeva Claims application. This includes product roadmap prioritization, industry thought leadership, and strategies and tactics to drive awareness and interest within targeted verticals. John acts as the subject matter expert around claims and works closely with the sales team on new and existing accounts.
John has over 15 years of experience in senior marketing roles across a variety of industries, including consumer products, healthcare, and health insurance. As associate director of marketing at The Clorox Company, John worked extensively in regulated categories and led teams responsible for brand strategy and marketing, innovation, and channel marketing.
John holds an MBA from the Haas School of Business at the University of California, Berkeley, and a BA from Harvard University.
Subscribe