In today's fast-paced consumer-packaged goods (CPG) industry, quality management is at the forefront of business success. CPG companies grapple with the dual challenges of optimizing process efficiency in their operations and supply chains while maintaining the highest standards of product quality, traceability, documentation, certification, and workforce training. Quality managers and compliance professionals shoulder the crucial responsibility of ensuring compliance and performance amid rising consumer expectations and industry pressures.
In this dynamic landscape, the digital transformation of quality management processes is at last being recognized as a competitive advantage. However, for many quality leaders, a significant hurdle remains: bridging the gap between the realms of quality, business outcomes, and return on investment (ROI) when presenting their case to top management.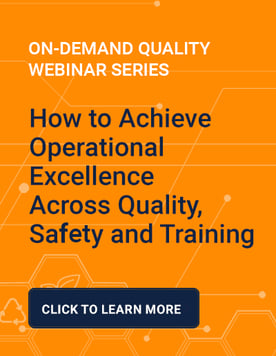 Thanks to deep partnerships with industry leaders, Veeva has accrued a wealth of experience and expertise in assisting compliance professionals to grasp, articulate, and harness the value proposition of digitalization within their compliance processes. Our mission is to empower quality leaders by helping them navigate the intricacies of the CPG industry, demonstrating the pivotal role of quality management in addressing industry challenges, and, most crucially, providing insights into how to define and clarify the ROI when CPG companies embark on the digitization journey for their quality operations.
In this blog series, and our accompanying on-demand webinar series, we aim to share our comprehensive understanding of the challenges that the CPG industry faces [Link], delve into the indispensable role played by quality management in overcoming these challenges [Link ], and, perhaps most importantly, unveil the strategies and best practices for elucidating the tangible ROI of digitally transforming quality operations [Link].
Drawing from extensive experience collaborating with industry leaders, we invite you to join us on a journey of discovery, innovation, and transformation within the CPG industry landscape.
---

---
Subscribe