Veeva Leadership Participating in Unilever-hosted North America Virtual Panel Discussion "Connecting with Consumers to Build Trust"
Today in honor of World Quality Day, consumer goods industry leader Unilever organized a series of internal events to deepen employees' connection to consumers. Unilever invited its technology partner Veeva to its North America 'outside in' virtual panel, where the cloud software provider will share its perspective on how Quality influences consumer trust.
"One of the most important aspects of consumer experience is trust which we can only build by listening to our consumers and showing them that their voice matters," Unilever event materials state. "With consumer demand increasingly changing and the battle of a global pandemic, connecting with consumers is more important than ever to create superior, sustainable, and safe products that our consumers will trust and love."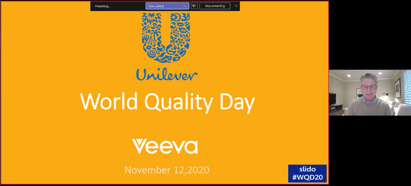 Veeva Vice President Ed Van Siclen is representing the cloud technology vendor in the virtual panel discussion focused on how connecting with consumers builds trust in the quality of products and experiences Unilever delivers.
"Veeva has a long history of engaging a challenger mindset with our customers, like Unilever, to hold each other accountable as we digitally transform quality and regulatory functions," shared Van Siclen. "We applaud industry-leading organizations like Unilever who are reframing the role of Quality and its importance to enhancing the consumer experience."
To learn more about Unilever's Quality digital transformation initiative with Veeva, we encourage you to request access to the Quality & Regulatory Global Summit fireside chat with Unilever quality manager Geert van Kempen "Establishing the New Normal in Supplier Collaboration".
Subscribe